Cage Diving with Great White Sharks in Gualalupe, Mexico
Since I was a child, I always knew I wanted to swim with whales,  but I never thought that I'd be in the water with great white sharks in Guadalupe, Mexico.
When the opportunity presented itself, I was a little hesitant, since you know… watching "shark week" can make almost anyone scared of great white sharks. After doing a little research, and easing my nerves I decided – YES! I will cage dive with great white sharks in my lifetime. So I did. And it was awesome.
I was on the Solmar V with Great White Adventures which was an amazing experience. I flew to San Diego and stayed for the night, and bright and early the next morning I made my way across the Mexican border (via coach bus) to end up in Ensenada, Mexico. We boarded the 112ft boat, and once we all got settled, there was a feast of delicious food, and crisp cold beverages waiting for us to enjoy. The service, food and whole experience on the boat was truly supreme, and I enjoyed every meal and second I was on the boat!
Getting to Guadalupe, Mexico for the great white sharks is a 20 hour crossing. Yes, you read that right TWENTY HOURS. We came across a mola mola, seals playing and even a blue whale (!!!) on our way there. I was enjoying every second of our journey up until the sun set… Maybe I psyched myself out, maybe I just couldn't handle it, but I have never in my life been more seasick than I was off the back of that boat for about 4 hours. I have been on many boats and I've never been seasick before. It was absolutely HORRIBLE!! This is why you buy motion sickness medication before you leave, and you take it.. even if you think you will be fine! Thankfully, some very lovely ladies on the trip hooked me up with some of the good stuff, and I was out like a light. When I woke up the next day, my sickness had passed.

We arrived at the island mid-day and immediately got in the water with the great whites for a few hours. Honestly, it was so interesting to watch the sharks swim past us slow and majectic, and despite what I thought, I wasn't scared even a little bit!  The next two days were full of amazing opportunities to interact with them. Each cage could hold 4 people, and we each got to spend 45-60 minutes in there at a time on a rotating schedule, so there was more than enough time for everyone to get some great shots. When you were out of the water waiting for your next turn, you were eating incredible food, relaxing, and talking about the great things you just saw.
One of the coolest things that happened to me in the cage was; I was hanging around the corner of the right cage with my camera in hand. A great white came to eat some fish heads at the surface, and at the last second it turned away and came rushing towards the cage. It hit my arm with it's tail and all I was thinking was 'Please don't drop the camera!! Please don't drop the camera!!'. But hey, now I have bragging rights – I've totally been hit by a great white shark!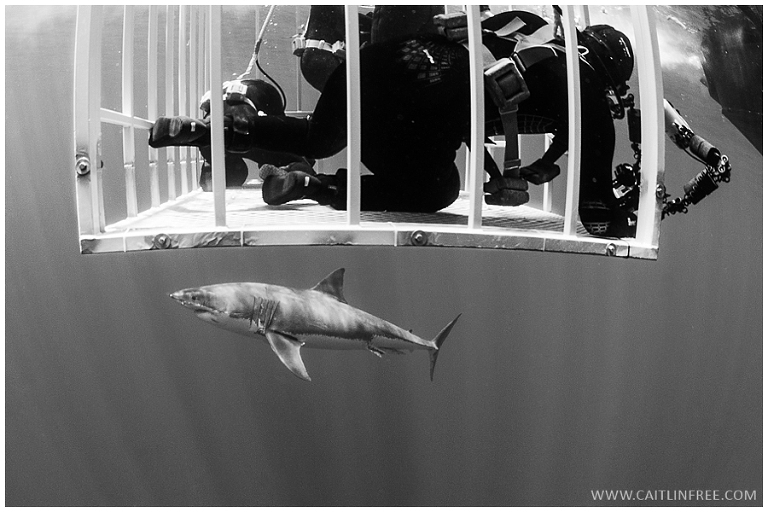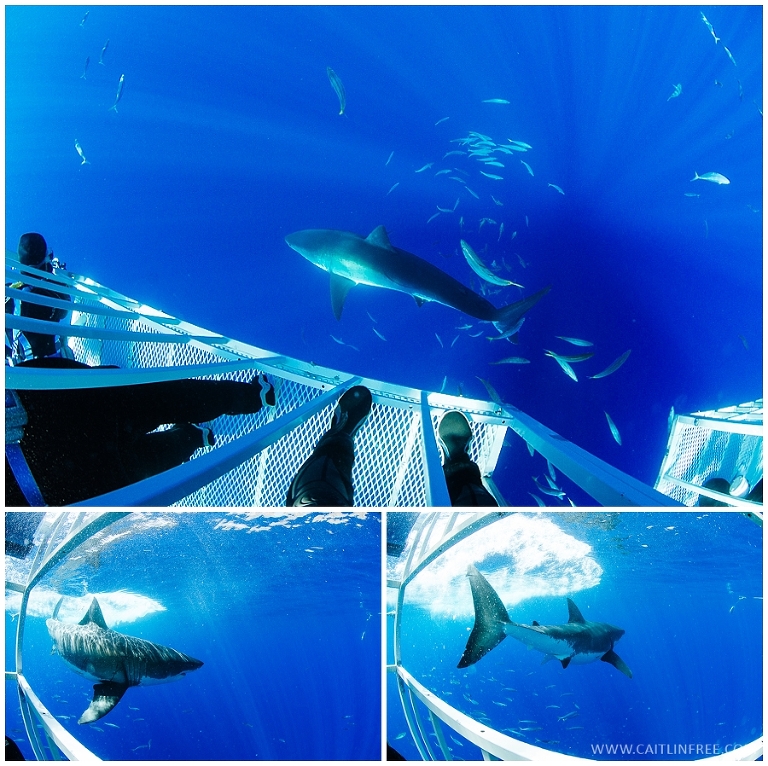 I very much enjoyed going down in the submersible cage as well. Part of the cage is open, so you can basically go out as far as your air hose will take you. I absolutely loved taking photos during the trip but one of my favourite parts was when we were in the submersible, and there was a huge shark coming towards the cage. I put my camera down, and the shark and I just stared at each other. My heart was beating like crazy, and I was in complete awe. I remember thinking "Wow, what a magnificent animal I am going to remember this moment for the rest of my life'. And I will, because I put my camera down.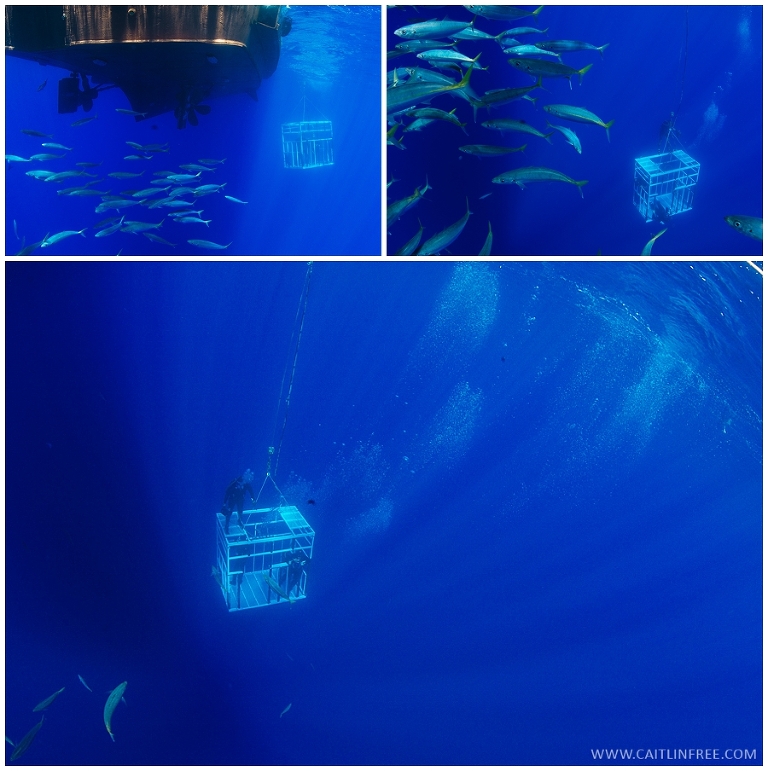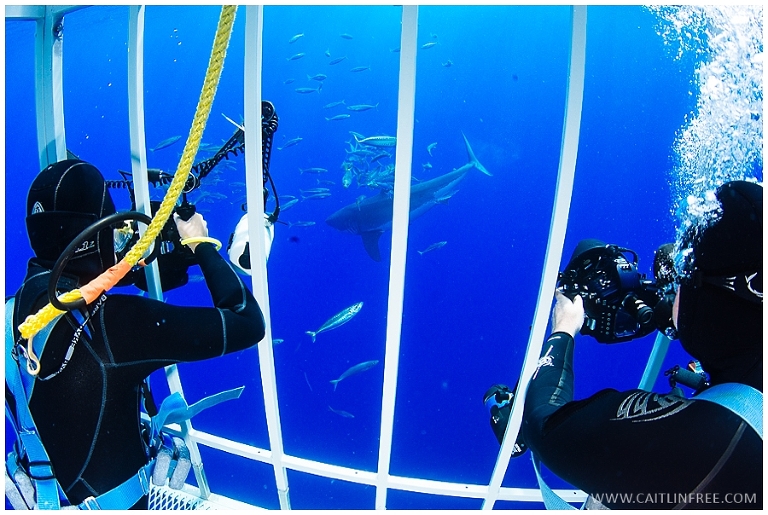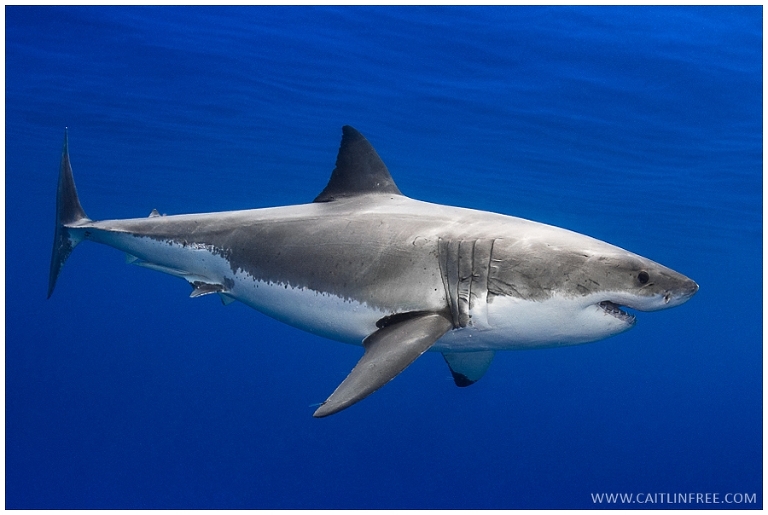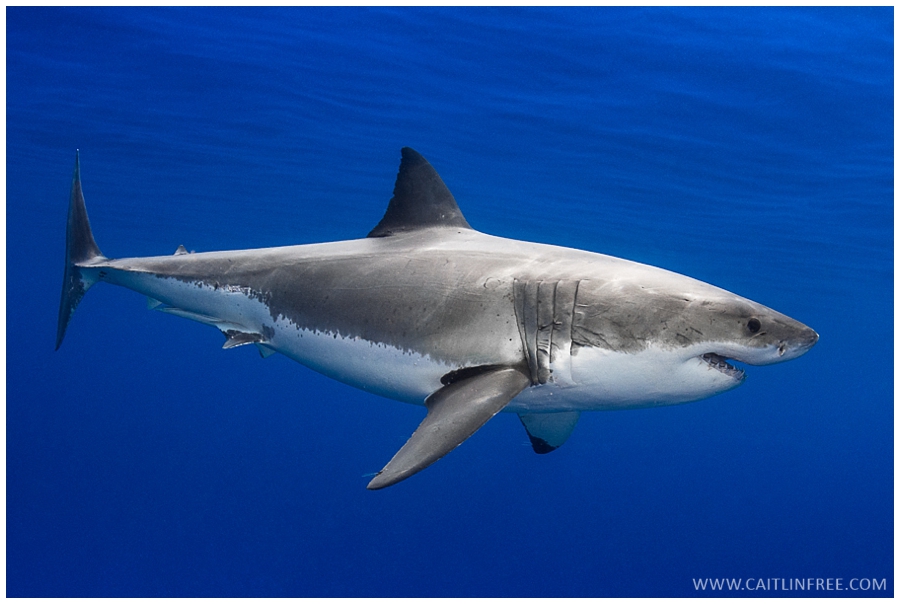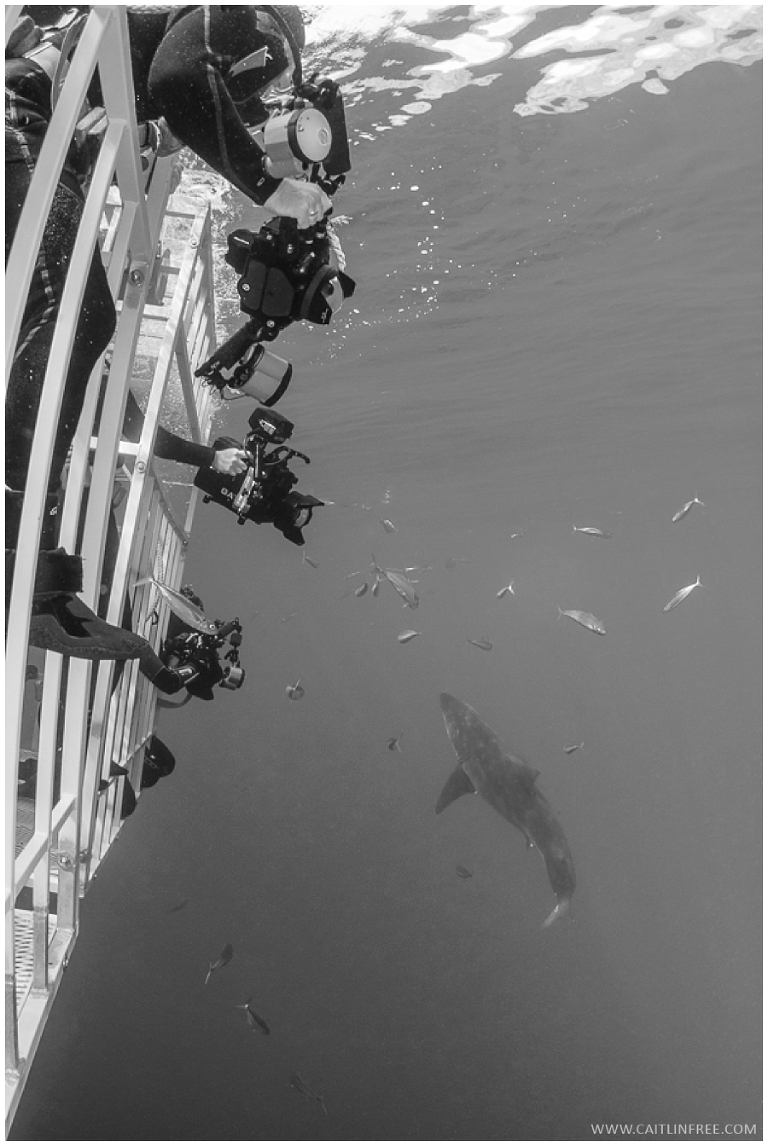 One of the other things we got to do on this trip was take a boat ride to the island to see the fur seals. The landscape of the island is so rugged and incredibly beautiful. It was so much fun watching all the pups playing in the water and just watching them interact with each other.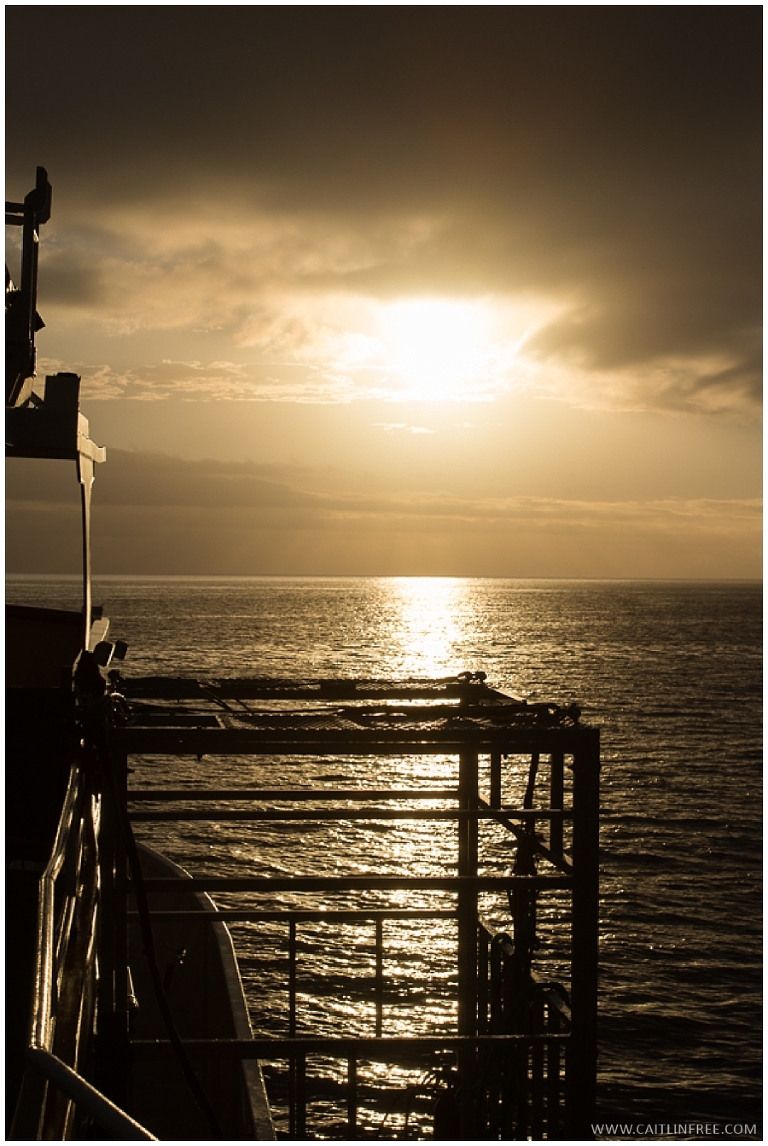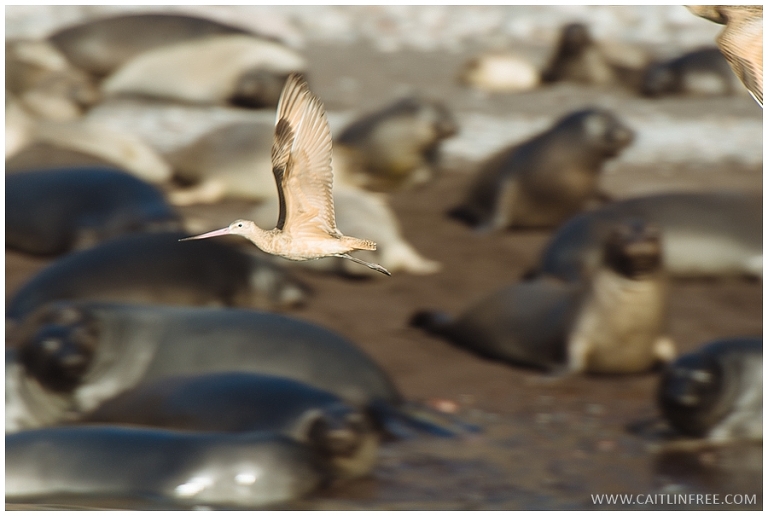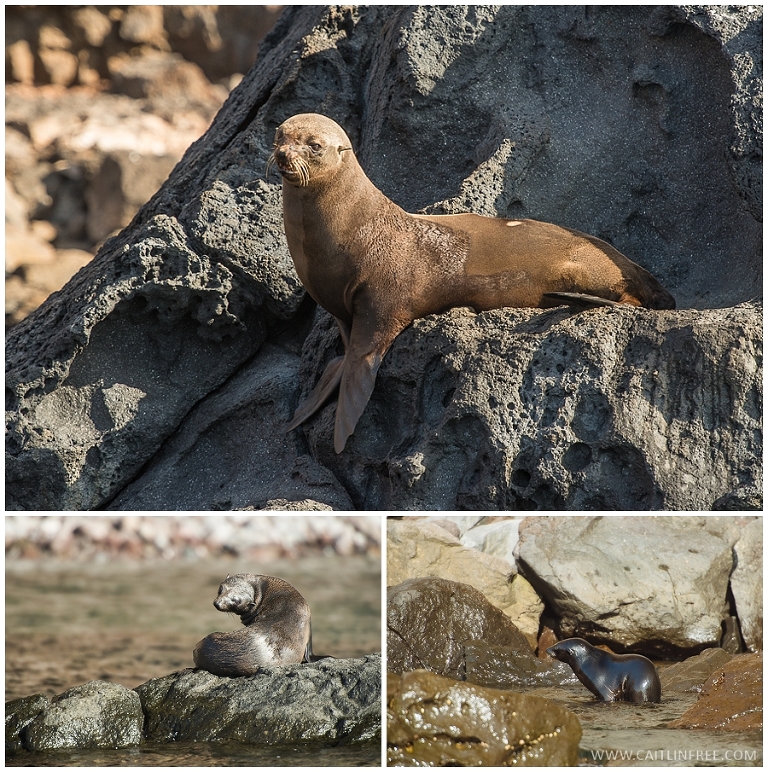 Our journey back started late afternoon of our 4th day, and I made sure to take some preventive meds this time. I've never seen Jaws, so it was a great treat to watch the movie on the boat! The funniest part though? I fell asleep 15 minutes into the movie and now I've STILL never seen it… But hey, there's no way it's as good as the real thing anyway!

Hope you have enjoyed reading my experiences and looking at all of the photographs.  I'd love to hear your comments, so take a moment and let me know what you thought!