2023 Tree Farm Mini Sessions are here!
Year 4 baby! So excited to be hosting Tree Farm Mini Sessions for the fourth year in a row! Every year so far has been amazing snow, rain or shine.
These mini sessions are a great way to document your family, your relationship with your partner, new additions & milestones, and even cute shoots with your pets!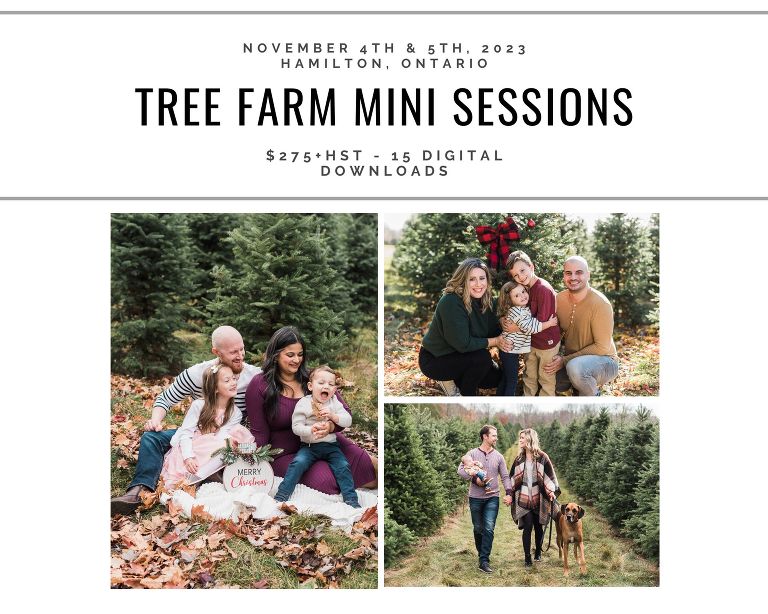 Pricing & Information
The location of these mini sessions is Merry Farms, in Hamilton Ontario. 
Dates are Saturday November 4th and Sunday November 5th. Time slots are from 10:00AM – 4:00PM.
Sessions are 30 minute time slots, with 20 minutes of shooting time. Max of 6 people per session. I will send out a guide to help you prepare once you are booked.
You will receive a credit for 15 high resolution digital downloads, and have the option to purchase additional photographs at $8 each if you see some additional ones you just love! There is also the option to purchase the whole gallery for an additional $100+HST.
Pricing is $275+HST and your high resolution photographs are delivered via online gallery for you to download within 2 weeks.
Reservations are based on first come, first served. Please view the calendar at the bottom of the page, and choose your time slot. All other information can be found below!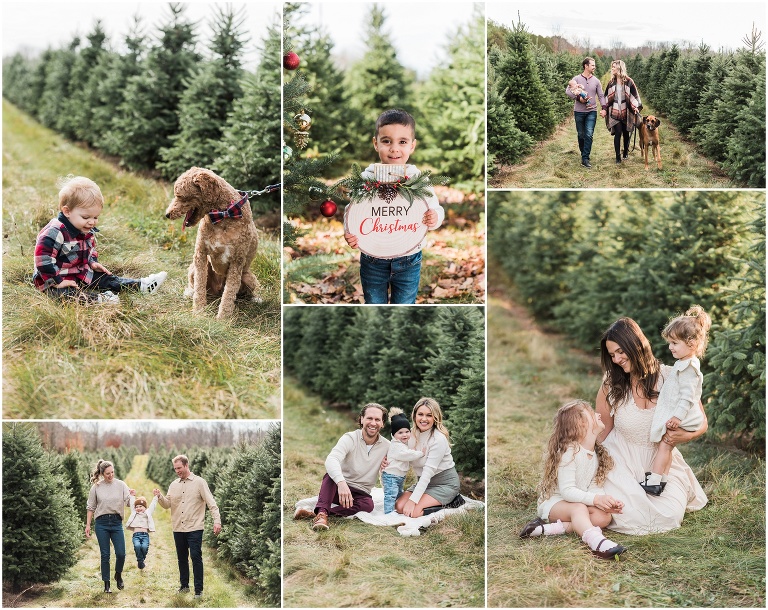 FAQ's
How do I book a mini session?
Use the calendar below to pick your date and preferred time slot. This is only a reservation. Within 48 hours I will send you the contract, and full payment is required via email transfer after the contract is signed. Once those steps have been completed, you will officially be booked!
What if it looks like it will rain?
If the weather states that it will lightly rain, the day will still move forward. The chances of it raining all day are slim however if it does look like it will rain all day, or any kind of dangerous weather – November 4th will be rescheduled to Nov 5th and vice versa (however your time may change). There may be an option for a rain date on November 11th, however that can not be confirmed until we are closer to the date!
Can we bring props with us?
You can bring props with you as long as they do not leave a mess so – no confetti! I encourage you to get into your holiday spirit! You to bring a blanket to sit on, or any fun signs or holiday props you would like, even champagne. The most important part though, is to capture your essence, your laughter and this time in your lives in a more documentary style.
What if we are late to our session?
If you are late to your session, then whatever time that remains will be used to create as best as possible. Unfortunately no monies can be returned.
What is your cancellation policy?
Please make sure before booking that you are available on the date and time that you book. If you need to cancel for reasons beyond your control (re: covid things) then I will require 48 hours notice for you to receive a full refund.  Cancellations after 48 hours will receive credit for payment sent towards full sessions in the future. You can also choose to sell or give your session to a friend or relative!
How long before we receive the photographs back?
Everyone will be receiving their high resolution photographs within two weeks! Just enough time to place any holiday card, or print orders!
Ready to book? Check out the calendar below to make a reservation!
Please note: This website does not confirm your booking for your session. This is where you make your reservation. I will email you with instructions on how to book your session once you've submitted your reservation for your time slot. Full payment and a signed contract are required to confirm your session within 48 hours of making your reservation.
Looking forward to creating with you!