Top 10 Tips for the Perfect Engagement Session
Tips for the perfect engagement session? You know I'm here for it!
You've scheduled your engagement or couples session and now what? You might be feeling a little anxious because you aren't often in front of the camera, you're not sure of what to wear, or you definitely don't feel like you know how to "pose". Couples usually say something along the lines of this to me, "You'll have to make us look good because we are not photogenic at all"! Well, I am here to say that those feelings are totally valid, and even I have them sometimes in front of the camera! My goal as your photographer is to make you feel confident, comfortable and relaxed in front of the camera. Everyone is photogenic and can have great photographs of themselves, and I am here to help you during our time together. Here are 10 tips to help you have the perfect engagement session!
10 Tips for the perfect session
Make it an experience at a location you love
Love experiences over things? Me too. Sending out an engagement questionnaire before your session, I am able to get a picture of what you love to do together. Some of my past couples have hiked on their favourite trails, canoed around the Toronto Islands, gone to their cottages, or kept it close to home with a walk around their neighbourhood. It doesn't have to be extravagant – the focus is on you and your relationship. What do you two like to do together? Want to go back to your first kiss spot, first date spot or proposal spot? Let's re-live some of your most cherished memories and capture it along the way. Some couples do decide – hey you know what – let's go somewhere completely different! That's ok too and I have a whole big huge list of beautiful places to suggest for you.
Choose your favourite season
Spring, summer, fall or winter? If you have enough time before your wedding day you usually have at least 3 seasons to choose from. Spring will give you tons of beautiful blooms, and minimal bugs. Summer has adventures to the cottage but can be really hot. Fall has softer light, and beautiful colours in the trees and landscapes. Winter is great when there's snow and you just love winter activities!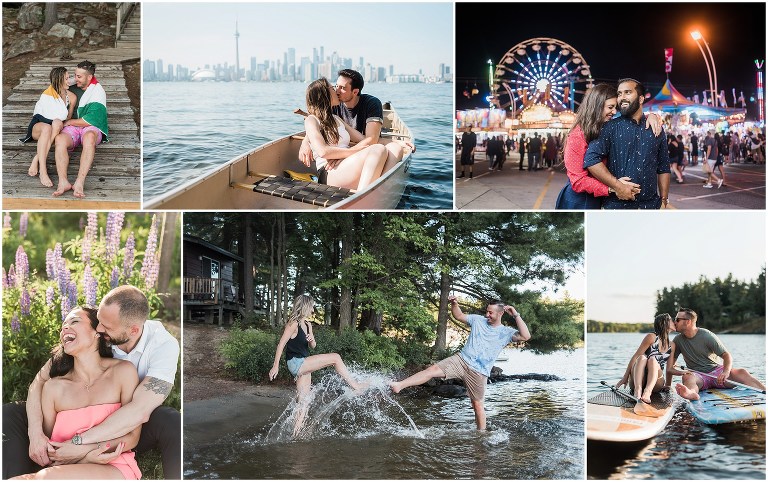 Time of day matters
There is a reason a lot of photographers love what's called the 'golden hour' for light. The quality of light is like no other during the day. I usually recommend starting your session about 2 hours before the sun sets so that we can photograph in that sweet spot. When we are in the city though we need to take the tall buildings into account so sometimes I like to start a little earlier. The golden hour isn't the only time to shoot, but it is always super nice when we can. I am skilled enough to shoot in any kind of light, I just prefer the times of the day when the light is a little softer and more flattering.
Wear something you feel yourself in
I can't stress this enough. Making sure your clothes fit you well, and that you feel good in them is so important. Letting your style show in your photos and staying within the same colour palette is always good too. I generally recommend staying away from distracting patterns especially if it's only one person wearing the pattern. However, if this is your style I say, let it shine through. When it comes to your footwear, make sure it is appropriate for the setting you are in. As an example, you don't want to be wearing heels to a waterfall. When you love what you're wearing your confidence will shine through & that will translate well into the photographs!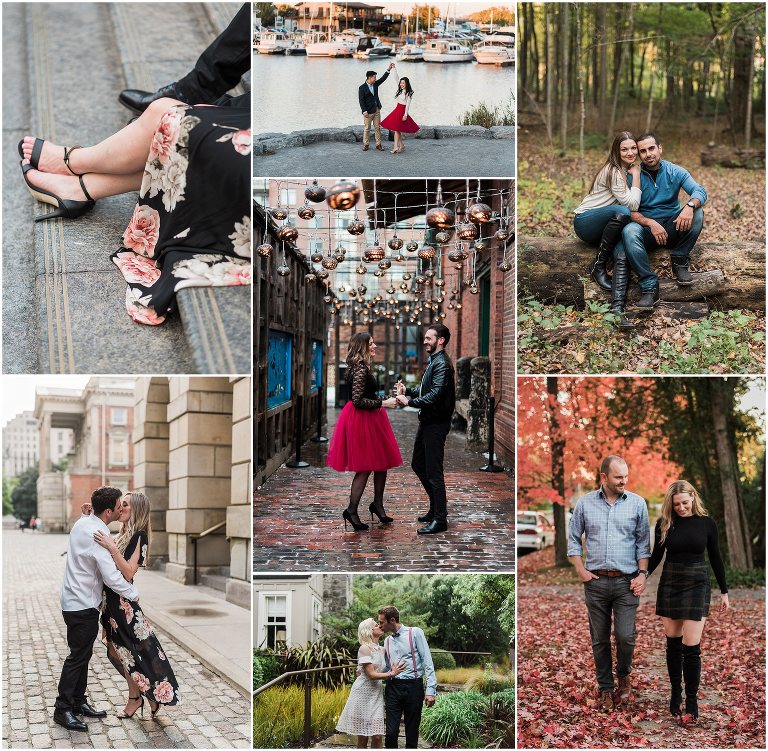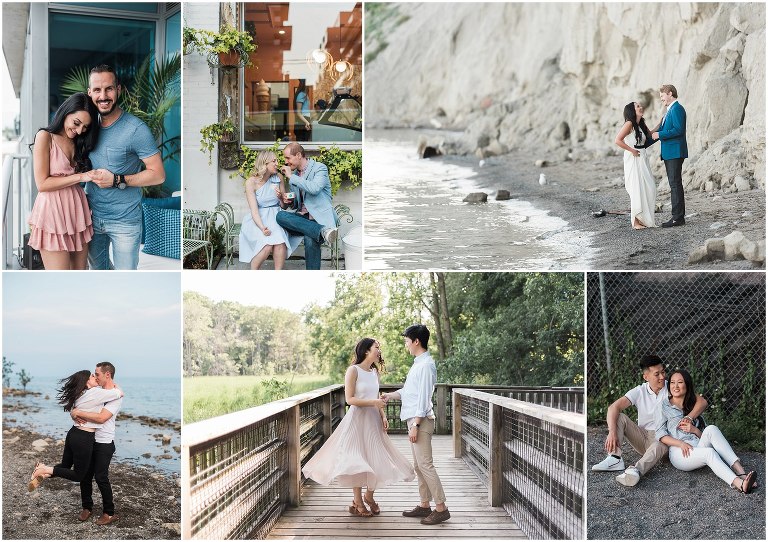 Communicate with your photographer
I absolutely love when my couples tell me what is on their mind when it comes to their sessions. Feeling worried, anxious or insecure in front of the camera? I hear you on that and I too feel that in front of the camera for the first few minutes. Knowing this I can tailor how the session will be and how to best approach it using specific lenses to start & utilizing certain positions or guided poses. Don't be shy if you have concerns, ideas or need to say something. Although I am the professional, we are all humans and I'm just like you!
Keep it Simple the Night Before
Spend some quality time together getting excited about the shoot! Have a nice relaxing night & stay hydrated – water is good for your skin! Make sure to get a good night's rest and have everything ready for the shoot the next day.
Posing? I don't know how to pose!
You do not need to know all the go to poses on Pinterest in order to have a successful session. Every couple has their own way of being intimate with each other and I never want to force any guided poses on my couples if I can tell they are not comfortable, or it's just 'not them'. It's not about me getting the perfect shot for myself or for my social media. It's about YOU, and me genuinely and authentically capturing who you are as a couple. I tend to 'guide' my couples into poses with actions or prompts to have a more natural fluid feel to the photos. If you are able to let your personality shine through, and be your weird selves you're going to love the photos we create together.
Include your pet
A lot of my couples like to incorporate their pets into their sessions. I love this because your furry friend is a part of your family and having them in photos is so special! I always ask if your pet has any kind of anxieties around separation / seeing you two snuggling together. I've seen some doggies get really worked up when this happens so it's always best to have someone there to help with your pup on the day of. You can also get someone to bring your pup at the beginning / end of the session so that we can get some great photos of just you two and not worry about stressing your pup out. Don't forget to bring the treats and a little water if it's hot out. I've also had a kitty in an engagement session and I am so down for more like this!
Should we bring some props?
The one tip I like to give is – if it makes sense for what we are doing – then absolutely! There is nothing worse than looking back on photos of yourself and thinking "Oh gosh, these look so dated – these are so 2009". Cringe! I've been a photographer for over 15 years and have been doing weddings for 8+, so I know a trend when I see it. If you want to bring some champagne, or a blanket to sit on I say yes, let's go for it. If we are having a backyard hang you have charcuterie and wine, that makes sense. Anything else that doesn't naturally fit into what we are doing – I say leave it at home and let's just be present with each other and capture yourselves as naturally as possible. If you're wavering on something let's absolutely chat it out.
The most important engagement session tip
Trust your photographer & have some fun!
We've chosen a location for your session, and planned around the best light. You had a great night's rest & now it's time for it to all happen! I encourage you to forget about those perfect photos you saw online & let me do what I love doing most. Documenting your love and the essence of who you are. I'll be capturing those little in between moments, beautiful portraits and wonderful landscapes for you to frame. I may ask you to do something that feels silly but there's always a reason. At the end of the day you are going to love the collection of photographs we create together and we will have a blast doing it! You'll leave the session having had a wonderful experience, a fun lil date night and wonder what you were worried about in the first place.
Hope you enjoyed these tips for the perfect engagement session! If you need a little more inspiration you can view these other sessions by clicking on their links!
Jack Darling Park Engagement Session
Guelph Arboretum Engagement Session
If you are looking to book a session or have questions, get in touch by pressing the 'Book Now' button below!